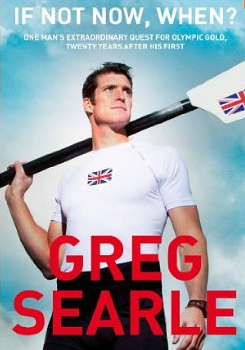 Daily Telegraph
"This is a fascinating read, laced with triumph, tragedy and a series of eye-watering accidents that always seem to befall him on his day off…He never shies away from question, nor from his own faults and foibles. Which is what makes this a compelling read."
Daily Express
"Searle should be congratulated for giving us an admirably honest, intelligent and heart-wrenching account of what it takes to occupy the elite of sport".
Book Description
Twenty years ago, rower Greg Searle won Gold in the Coxed Pair alongside his brother, Jonny, at the Barcelona Olympic Games. At the age of 20, he received an MBE, and by the time he had reached his mid-thirties, his glorious career as an international athlete was over. Or was it? If Not Now, When? is a book about obsession; about the drive to be the best you can be, whatever your age. In the autumn of 2009, and almost two decades older than the rest of the British rowing squad, Greg made the decision to come out of retirement and go for gold again at the London 2012 Olympics. His journey gets to the very heart of what it means to compete; teamwork and loyalty, the struggle to deal with disappointment and the will to win. In the 2012 final, Greg won bronze as part of the men's eight and sealed his status as Olympic legend.
Click here to read more reviews and buy Greg's book "If not now, when?"
Email Debbie@room54.co.uk for more information about booking Greg to speak at your event, call 01753 632800.